My earliest memories of Valentine's Day are from elementary school, where everyone in class was required to give out those cheesy Disney cards to each person. (I always chose one of the Disney princesses!). We'd spend an hour of class walking to and from desks, industriously leaving Valentine's Day cards at each. Some even got candy taped to their cards, a universal "You're cool" or "I like you". But now that we are a bit older, Valentine's Day doesn't seem as simple as those days. Choosing the right gift can feel impossible. Do I go with the romantic, cuddly approach or something a little more useful? To get you started, here are some of my favorite Valentine's Day ideas: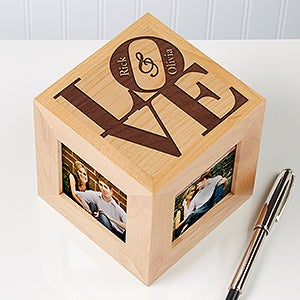 Instead of the usual photo frame, try a photo cube instead and display more then 1 favorite memory
With the tagline, "Gifts that Make You Smile," BoldLoft is the place for the most adorable gifts. Check out this pillowcase set from their "You're Irresistible" collection
To achieve the sappier "AWWW!" reaction, consider creating a personalized book of all the reasons why you love your special someone
For something a little less Valentine's Day-ish, play up your sweetie's love of football and get customized NFL M&Ms, with the team's logo and colors
For those who love fun, random gifts (or who are just really into Monopoly!), try Loveopoly! Personalize it with your own photos and memories

Monogramming something practical, such as a money clip, is a less lovely-dovey approach that is useful but still intimate. Definitely a top pick for more the more pragmatic!
Share your top Valentine's Day gift ideas below!